Tailgate and vendor sales start at 12:00 on Thursday. Be sure to visit our vendors including:

Tailgating
Bring any items you'd like to sell or trade, and browse others' goodies. The early birds get the better buys, and the earliest tailgaters will begin setting up on Thursday when the grounds open at noon. Come early to enjoy the tailgate sales. You are encourages to bring blacksmith and other items to trade or sell.
---
Vendors

John Guenther – Knife Cases
John & Ritchie, Miss. – truck load 5160 tool steel
Green-Mengel – Old and new blacksmithing tools, anvils, swage blocks, cone mandrels, etc.
Tool Fool – Old and new blacksmith tools, anvils, swage blocks, blowers, forges, etc.
Kentucky Leather & Hide – Leather & Accessories
Brent Bailey – Handmade Hammers & Tooling
www.brentbaileyforge.com
Raymond Head – Power Tire Hammers
Dave Custer – Fiery Furnace Forge. Dave is known for his hammers and tooling, but his work also includes dinner bells, hooks, bathroom & kitchen hardware, gates, railings, furniture, & fire screens.
Blue Moon Press
Blue Moon Press, Ltd.,  founded in 1999, is located in the eastern United States, nestled in the mountains of Central Pennsylvania. They are committed to collaboration with friends around the world to produce highest quality manuscripts for the global metal artisan community. They are devoted to researching and translating the best metal books available, and are dedicated to producing the finest reference materials for blacksmiths, sculptors, jewelers and all metal artists.


Inksmith
Inksmith specializes almost entirely in blacksmith designs and is a regular vendor at the Southern Blacksmith Association (SBA) and Southern Ohio Forge and Anvil (SOFA) Conferences.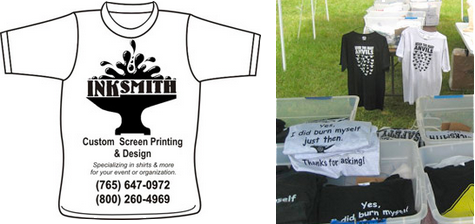 Ron Richerson's Green River Custom Knives
Ron has everything a knife maker could want or need.  He has a large assortment of metals for blade making including Damascus.  His large variety of materials for knife handles is unmatched, from exotic woods to antlers of all species to mammoth teeth.  Green River has it all.


Swirl Girl Art
Allison Bohorfoush is Swirl Girl Art!  She has been creating one-of-a-kind original artwork jewelry for 22 years and travels to shows throughout the Southeast.  She most commonly uses chasing and repousse techniques.  Animals and plant forms are a staple in her pieces.
http://swirlgirlart.com/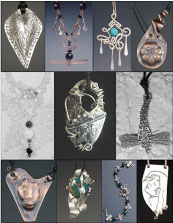 Blacksmith Supply


Blacksmith Supply and owner John Elliott "try to stock the items we, as blacksmiths, use everyday."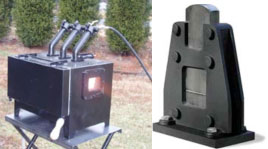 – Whisper gas forges
– Smithin Magicians
– Fuller Punch sets & swage blocks.
– TOM TONGS
http://blacksmithsupply.com/
804-530-0290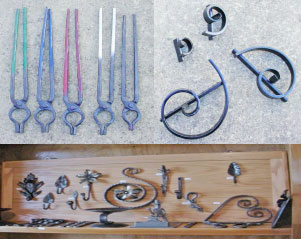 Mount Sharon Forge
Mount Sharon Forge was started in 1991 by Ray Spiller who has been blacksmithing since 1983.  Ray will be at the Conference selling a wide variety of hand-made tongs, scroll jigs, and art work.  Visit Ray & Mount Sharon Forge on facebook and http://mountsharonforge.com/  also @ the AACB 2014 conference.

Allan Kress
Working as a self-employed blacksmith has afforded Allan the time to travel and take classes from many well-known Master Blacksmiths.  Allan sell power hammer tools, both closed and open faced, as well as hot and cold cuts and a wide assortment of hand files.
Iron Mountain Forge



Custom built blacksmithing tools. Designed by a master with more than 40 years experience.
http://www.imountainforge.com/
(614) 946-5045