Mark Aspery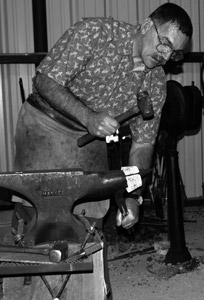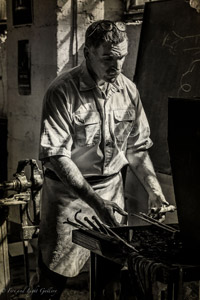 Mark Aspery is a British certified journeyman with the Worshipful Company of Blacksmiths, a UK guild started in London in 1324, and is also a certified farrier with the American Farriers Association.
Mark owns and operates the 'Mark Aspery School of Blacksmithing', traveling across North America teaching classes and giving blacksmith demonstrations.  He has written three volumes of blacksmith books in a series entitled The Skills of a Blacksmith and is working on a fourth volume.
Aspery's underlying ethos is "make the tools before you begin the job".  He uses classical techniques whenever possible, and quips that he is as much a student of blacksmithing as the next smith – always ready to learn more.  Teaching by its very nature improved his blacksmithing more than any other event.  He says his single biggest products are smoke and noise, with mistakes coming in close behind!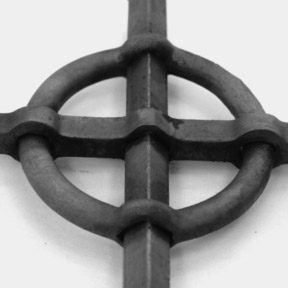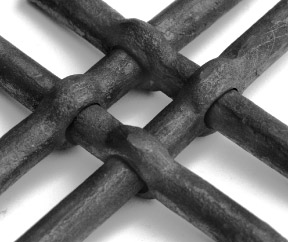 ---
Susan Hutchinson
Main Demonstrator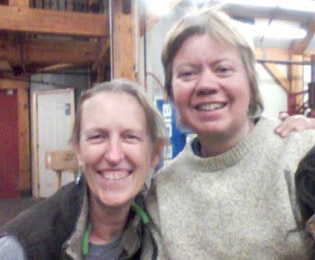 I produce a variety of contemporary, functional items for the home and garden made from metal (mostly wrought iron), and sometimes mixed media. My scale ranges the whole gamut, from tiny hooks to large architectural installations. Large pieces are generally one-of-a-kind commissions for private clients, and smaller pieces are often the result of several years development of a particular theme.
While function is always important, line and form referencing an organic emergence of movement and time are the visual subjects of my work. This lends a natural connection to the historical periods of the early 1900's Arts and Crafts movement, Art Nouveau, and later, Art Deco. Much like the work I produce, my workshop has an eclectic mix of historic blacksmithing tools and modern technology. I also enjoy teaching at John C. Campbell Folk School and often give presentations at blacksmithing conferences.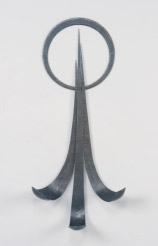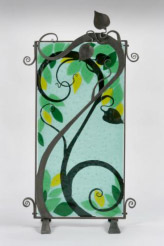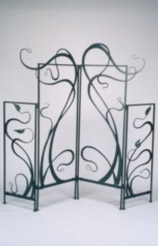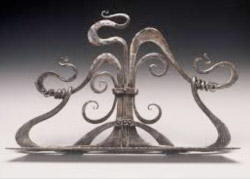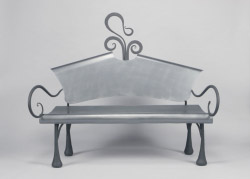 ---
Julie Clark
Julie Clark graduated college with a degree in business, but it was attending a farrier school that sparked her interest in blacksmithing.  After ten years in the equine industry, she then earned a two-year degree in welding and joining technology. Clark now creates amazing pieces on commission and for sale through galleries and fine-art festivals. She is currently president of the board at John C. Campbell Folk School.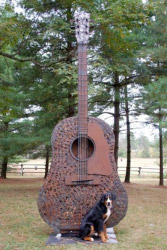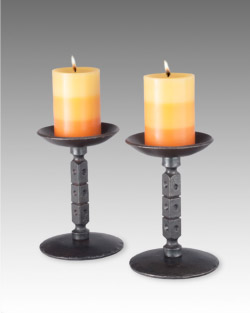 ---
Member Demonstrators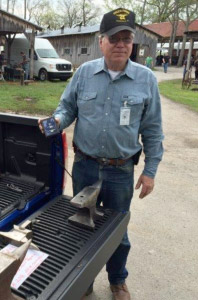 Larry Cole 
"I am excited to have Larry Cole do a demonstration for us. It has taken me about four years of hard work and numerous bribes to have Larry join us."    – Buzz
Larry has been tinkering with blacksmithing since he was a kid, for about 50 years.  About 30 years ago he met his mentor, Frank Ellis, who taught him the finer aspects of blacksmithing.   Larry is a certified gunsmith and a former police officer for 30 years in Clarksville, TN.  Larry is one of the founding members of Possum Trot Forge, along with Frank Ellis. Larry has taught about 50-60 people how to blacksmith throughout is life, and he enjoys doing festivals and shows. As seen in these pictures Larry has made many of his own anvils, large and small, and repaired many he has found. We look forward to picking his brain on anvils.
---
Dan Pelletier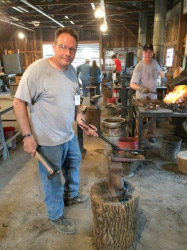 Trained as an electrician and machinist, Dan started tinkering with blacksmithing 30 years ago.  He is currently a member of Fiddler's Grove Blacksmith Association, and has been for 12 years.
He teaches the advanced class at FGBA and is a past president. He enjoys building wood furniture, and loves to mix both his love of wood with his love of blacksmithing.  Something else Dan enjoys doing is rebuilding old machinery and old blacksmith items. His shop is a blacksmith paradise.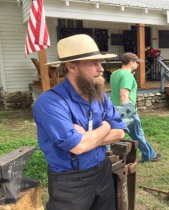 ---
Samuel Stoner Jr.
Samuel Stoner Jr. has been in business for many years by providing unparalleled craftsmanship using manual old fashioned processes.  Each blade is heated in a coal forge and hammered into shape using hand and mechanical powered hammers.  Every blade is heated differently and treated to produce a hardened and tough blade. Samuel prefers to use natural materials for the handle, but will provide customization in the form of wire inlay or hand carved wood. Samuel specializes in making high quality hand crafted knives with the craftsmanship and care of a time long forgotten. Each custom piece is crafted using methods passed down from generation to generation. Samuel is a member of the Old World Order of Mennonites; therefore, his methods are very traditional. He uses no electricity or motors; however, all of his equipment is driven by pulleys and belts on an overhead drive shaft. The shaft is powered by two strong horses walking on a treadmill.